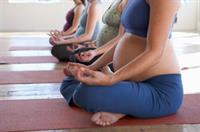 Teacher: Katie Todd
Saturday August 1st, 2015
11:45-1:45pm
PranaTonic Yoga Studio
The prenatal workshop will take a look at the benefits of yoga during pregnancy and postures to aid common discomforts. Modifications of yoga postures will be taught and discussed. Students will learn about precautions that should be taken while practicing yoga as well as what poses to avoid. This class will give you a chance to connect with other pregnant moms and learn some great "tips and tricks" for pregnancy, child birth, breastfeeding and postnatal care. We will also touch on breathing techniques and yoga poses that can be beneficial during labor. The workshop will include an asana practice that is safe for all stages of pregnancy and will help build strength, stamina and stability.